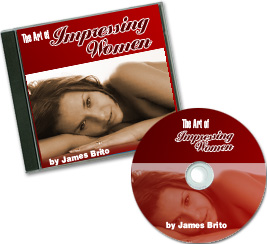 Ever wondered how to impress girls, without coming off like you're a show-off or know it all? Want to know how to impress girls and actually leave them impressed with you, and more attracted, rather than what most guys achieve - which is the total opposite!
Then The Art of Impressing Women © is for you! It's an absolute must have if you are really serious about becoming irresistible to women. In this original audio seduction guide, available INSTANTLY upon download, you'll learn advanced PROVEN techniques that are certain to have a profound impact on your dating future.
Tired of doing all the attraction work yourself, like the woman has all the power? With The Art of Impressing Women, I'll teach you how to spin things around--so the girl is trying to impress you!
In this audio course, I cover all the stages of making can't-miss impressions on women. You'll learn how to build an identity she can't resist; how to get your head together so you'll never lose her; how to condition yourself to success; and how to build your encounters with women around a life purpose. I'll tell you all the qualities you need to impress women: how to successfully catch her attention; the art of the approach; and how to use laughter, the best medicine.
On top of that, I will personally guide you through the intricate stages of dating so you can continue to make impressions even beyond the first encounter and the first date. No more worrying about if you're good enough for her. After you finish my course, your date will be wondering if she's good enough for you!
"...I get dates with great looking women now any time I want!"
"...I had been having terrible women problems since I got divorced 5 years ago. However after applying your techniques, I get dates with great looking women now any time I want!"
-- Ian Bowton, Queensland, AUSTRALIA
Listen to the lessons within 2 minutes of your purchase, and be on your way to becoming a female attraction machine in no time! Download my course to your computer, or even to your I-Pod, so you can become the man you always wanted to be at home, on the way to work, or even in the office! These lessons are available via download in the Members Area, for instant access.
Can you really afford to ignore your dream? If your dream is to attract the woman of your dreams, NOTHING should stop you! For less than the cost of a night out, you could get The Art of Impressing Women and learn tons of tips, techniques, and exercises designed to transform your love life and dating disasters.
So finally you'll be super-confident about yourself and your ability to attract and seduce any woman you want!
I personally guarantee that these will be simply the best female seduction training packages that you can buy on the internet. If they don't measure up in any way, shape or form, then let me know any time within 8 weeks for a prompt and full refund.