Are the mini-course and newsletter free?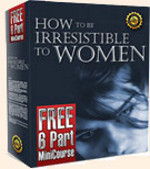 The How To Be Irresistible To Women 6-part mini course and newsletter series is jam-packed with the hottest information to help you seduce and attract women and become a dating master. You can sign up with the absolute confidence that we will guard your privacy and never divulge your email address to anyone else. You can unsubscribe at any time by following the link at the bottom of any email I send to you, and I promise that I will never send you another email.
My newsletter series is full of original tips and techniques and comes to you with no obligation to purchase my online courses. However, from time to time I will share with you information about other products and services that I think could benefit you in your growth and personal development. There's so much information out there that it's helpful to have a guide who's read and compared many of the leading dating & relationship packages.
And, of course, you want to take your seduction and attraction skills to the next level, you can purchase the course, but the newsletter series is all free! Sign up by clicking here.
Did that answer your question? If not, return to the FAQ.
---
How to Be Irresistible to Women PREMIUM Course | Art of Impressing Women | The Mastery Series
All rights reserved. Copyright © 000Relationships.com 2000 - 2007